Joanne Lee of Sunday Studio is a multi-disciplinary designer with a background in fashion and home decor. She creates one-of-a-kind hand-built vessels and sculptural objects inspired by the feeling of a sunny Sunday. After setting the table with her handmade flower vases at our Governors Island event this summer, we knew we wanted to showcase her work in the shop.
Joanne Lee Wants You To Use Her Spoons
To some, Joanne Lee's path to becoming a full-time artist may seem a winding one. "Let's go back to my childhood…No, not quite that far." She jokes as she starts her story by explaining her upbringing in an Asian-American immigrant family in Southern California; "parents always want you to study something academic, traditional – be a doctor, be a lawyer, etc. Going to college, I was like, 'I'm going to be a good student, follow this traditional path,' but kind of needed to be more creative, to work with my hands. Putting something out there that is more physical is always something I've enjoyed."
After school, Lee spent several years in merchandising and fashion design, which satisfied her need for creation for a while. "I was drawing pictures, sending out something that was in my mind and then just drawing a sketch. To get a physical product back from that was super interesting and exciting. But, after you do something for a while, unless you're really climbing the ladder and going on a certain path – I was really questioning, 'what is my role in this industry?'" She began to interrogate how her work in fashion played into her personal values of sustainability and living responsibly. Meanwhile, she started taking a weekly pottery class on Sundays.
"To me it was such a hobby that I enjoyed, it was playing. I was like, I can't make a living out of playing!" Her weekly date with wet clay inspired her to think about what life outside a corporate structure could look like, but she wasn't quite ready to leave design (or a regular paycheck) behind. Joanne transitioned to interior design just in time for COVID to shut down New York, then the world.
Joanne's weekly clay date became one of the few outlets she had during the pandemic, and she started to spend more time at the studio, alone due to social distancing. "I really took that time to come up with new ideas and new techniques, more exploratory. I started delving into more handbuilt, sculptural objects." She used her design eye – honed by many years in the fashion industry – to create her signature style defined by soft curves and clay coils. Over time, her playful experiments caught the attention of buyers online.
Playing with Clay Turned Into a Full Time Career
Her handmade ceramics now live on countertops and coffee stations, in cupboards and on crowded mantles across the world. "When I make my bigger pieces, they're more decorative and maybe they just sit on a mantle and occasionally they hold flowers or whatnot, but most of my pieces – they're not meant to be precious," Joanne explains her relationship to her pieces' functional uses. "It's funny. When I do some markets, there are a few things that people ask 'what is this, what do you use it for?' For instance, I make a ceramic spoon. To me, it's a spoon. Scoop things with it, stir sugar into your coffee, whatever. People always think that I will dictate exactly how it should be used. I'm not going to police what you do with these objects; once you take it home, it's yours. You can do whatever you want with it, and if you come up with a special way to use it that I didn't think about – that's amazing. You put your life into it."
"I want you to enjoy it. I want you to use it every day. Sometimes things happen; you break it, you chip it, but also – if you can salvage it – that becomes part of the object's story. I put it out there, but you take it and you make it your own." In that way, Joanne sees her work as a collaboration between herself and the people who buy it, who incorporate each piece into their everyday rituals. "I have to let it go, let it live its life."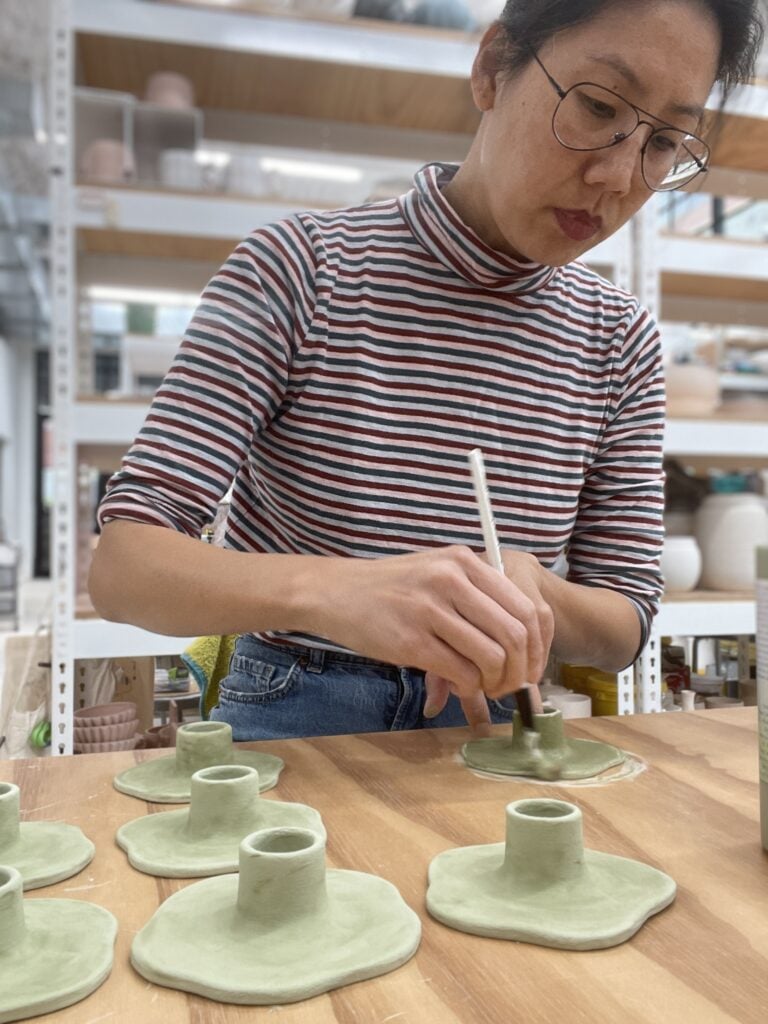 From the Studio to Your Home
Joanne's hope for her work is exemplified in the inspiration behind the name Sunday Studio – the feeling of a sunny day off at home. "Something about candle light and little objects on the table adds ambiance and sets the tone for an evening," she says when thinking of the ideal environment for her handmade candle holders.
"I'm not seeing them in a specific kind of space, but for them to be part of a group of friends getting together, contributing to an occasion where people get together and have conversations and discuss ideas. That's them serving their purpose. That's why I put them out there."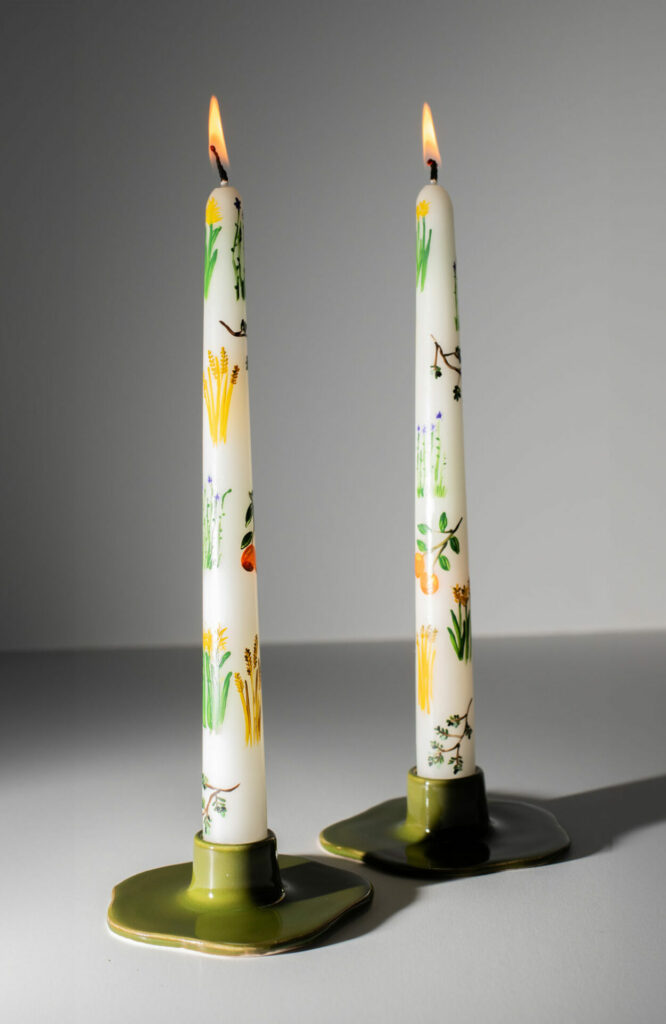 Sunday Studio Tapered Candle Holders Set