The quality of quirkiness is something deep in the DNA of OITF: 
Why bring your own plates? 
Why set a table in the rising tide? 
Why schlep our story-telling ingredients so far over hill and dale?  
Why choose to do the difficult when there is often a pretty darn easy version right there in front of us?
Perhaps the epitome of an excess of quirk is traveling America in our 1953 bus, Outstanding.
It for sure doesn't get us where we are going any faster. There is definitely an easier way, or at least a more reliable one. Breakdowns are good for stories, but how many stories do you need? Is the dashing design and color, that soupçon of style, really that important?
It, perhaps, takes more than a surplus of whimsy to motivate such irrational journeys, but I believe it says something when the bus stops by for dinner. The presence of a 34 ft red and white portable sausage-shaped rolling home-away-from-home is a statement: expect surprises, expect effort, and expect to not know what to expect next.
This season's journey cross country started in California in mid-July, with a choice of route: to arrive at the first stop in Utah, Sara and Symbria's Red Acre Farm, with a fully functioning moving antique meant choosing the route with the least hills. That meant the desert route, being the lowest, which meant often traveling in the cool of night. The bus is vulnerable to overheating. Each of the 5 major hills required strategy to surmount the heights. The usual method was to make it half way up a particular mountain, begin to overheat, pull over, let the engine cool down for 45 min in order to make it to the top and coast down the other side. Soon,  the bus and I arrived in Utah, greeted by whoops and hollers of Sarah and Symbria and dinner in the field.
"…expect to not know what to expect next."
A journey across America means a lot of fuel stops, which leads to the inevitable questions, "what is that?" and "how old is it?". The answers are always the same but the people are different; although, they are also on a journey. My curiosity is always piqued by unusual scenery, so we have a long conversation to commence before satisfaction results on both sides. Questions are lobbed and answered. Each journey continues.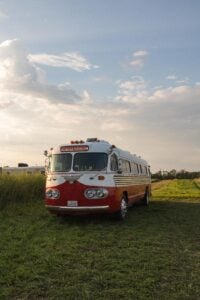 Returning to places seen before means revisiting those important people that helped pave the way to get this far: stopping to see tour veteran Niki Heber cooking in a field in Minnesota at Tangletown Gardens. This time he was our guest chef, not schlepping tables and chairs or expediting, as were his tasks ten years ago, in 2012 and 2013.
Yes, there are always hugs and smiles as we reunite, but there are lots of stories to tell, too. The memories of just how hard it was (and it is) to make this trip to be here to celebrate now are as much a part of the journey as anything else. Each time the bus comes to dinner, there are more to share, more to celebrate. Then, the journey continues…