FIELD NOTES: A Taste of Place
A little slice of life on the road through the eyes of our Tour Crew members.
Written by: Ariel Knoebel
Oct 10, 2023
I've learned something new about you this year. We've all suspected it for a while, but you've confirmed it this season at events in California and Pennsylvania, Rhode Island and South Carolina. It prompted us to change our Winter Tour planning. It led Nolan to spend several hours in the steamy heat of New York City with a power drill and fresh plywood, building us a brand new bar. What is it? Your most defining and uniting characteristic? You love oysters.
Why wouldn't you? Oysters are a particularly wonderful food. They delight. They confound. They lend themselves to be enjoyed in any season, mood or preparation: slurped with champagne, cool and crisp and reminiscent of a day at the beach in the height of midsummer. Fried, with crispy edges, lemon and tartar sauce in a grease-marked paper boat on the seashore. Stirred into a stew with a side of their namesake crackers or steaming sourdough to warm chilled bones in the winter. Slathered in herb butter and broiled, served bright green and bubbling on a bed of rock salt.
Oysters are as diverse as the areas of the country in which they grow. "American oysters differ as much as American people," says great American food writer M.F.K. Fisher in her own ode to the bivalve, Consider the Oyster. "There are, oddly enough, almost as many ways to eat such a simple dish as there are men to eat it." Oysters are unparalleled by possibly any other food in both their romance and literary representation. For those of us who value food that tells a story, they are a goldmine (or a pearl, if you will allow me to stretch the metaphor).
Not to mention the second life of oyster shells – paving beach house driveways with memories of backyard parties, piled into middens lining the coastline with reminders of ancient history or, with the help of hardworking people like the Billion Oyster Project, making their way back into estuarine waters to restore lost coastal ecology.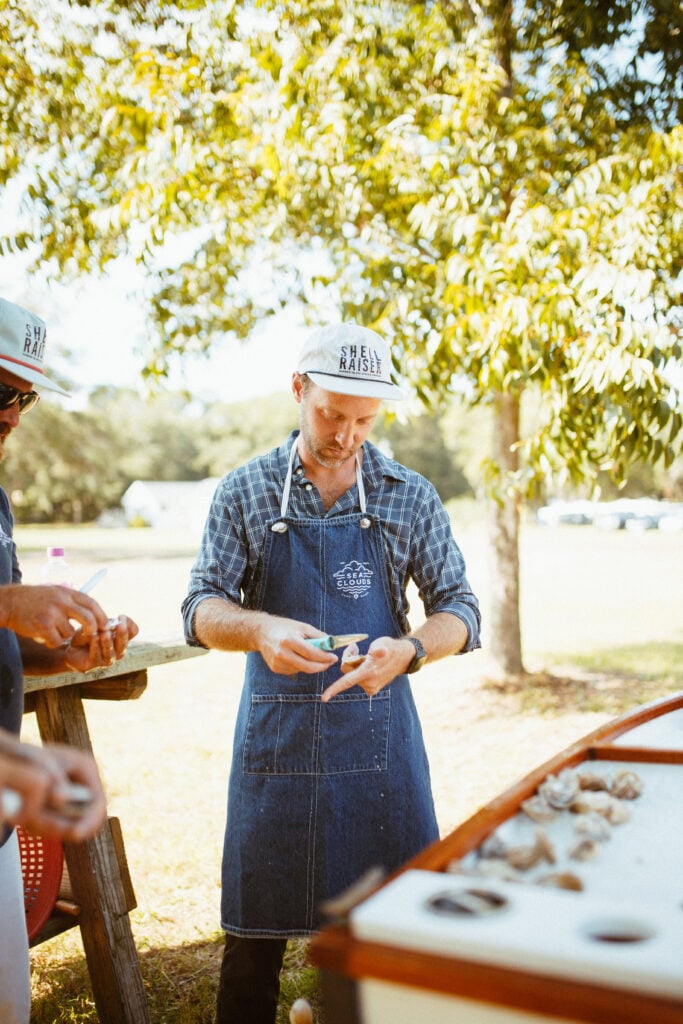 "Nothing connects you to the place where food is grown like an oyster." Josh Eboch from Barrier Island Oyster Company told the gathered crowd at our first event on his farm, held just a few days ago as I write this. Unlike almost any other ingredient, the oyster doesn't require translation via a chef, butcher or winemaker. The whole product can be served from the farmer's own hands – when you're really lucky, right on the dock, plucked straight from the cage, still dressed with seawater and maybe a shake of tabasco from a bottle left in the boathouse for just such occasions. Recent guest chef and James Beard Award Winner, Rob Rubba, named his restaurant Oyster Oyster after the mushroom and the shellfish, respectively. This restaurant was founded on principles of sustainability, and is fully vegetarian except for oysters (although some would say the oyster still qualifies, due to its lack of central nervous system), an ode to their importance to the ecology of the nearby Chesapeake Bay.
Even their shells, large and striped with stone and steel, or petite and white with streaks of mossy green and brown, look like miniature landscape paintings, an illustration of their homeland in distant waters or just down the road.
Oysters are the ultimate exercise in farm-to-table dining, really. They improve the environment by actively cleaning the waters in which they grow, preventing erosion and offering habitats for marine life. They taste of the water from which they came, briny and fresh or delicate and fruity, flavored with clay soil or slate or the salty tidewaters in which they've been washed. Even their shells, large and striped with stone and steel, or petite and white with streaks of mossy green and brown, look like miniature landscape paintings, an illustration of their homeland in distant waters or just down the road.
As the Tour Crew travels the country, many of us will tell you we are most excited about the oysters. We're not immune to their charms, either. On a day off in Maine or Malibu, the coast of Washington or along the Gulf, you'll find us at whatever local oyster bar last night's host farmer or chef recommended, slurping a taste of place as we pass through town. They're poetry embodied, these hard shells that may be so easily overlooked in the overall landscape, cracked open with precision and skill to reveal a softer side, a deeper story, an invitation to a vulnerable exchange (as anyone who has ever eaten a bad oyster will tell you, it is a risk to down that dozen). 
We often talk about breaking bread together being the ultimate form of connection. I want to offer an alternative metaphor, that of shucking the oyster. From the farmer's own hand to yours, a story to be told in the time it takes to swallow a bit of the ocean embodied, a celebration of place and the people who tend to it – the cages they control and the tides they do not, the long hours of work they put in to tend to their harvest, its progress one that few of us ever get to see – a true example of dining as an act of connection to something deeper.
It's no wonder you all love these silly little shellfish so much.
—— Ariel
UP NEXT
Meet the artist behind our latest item in our Makers' Collection.
Written by: Ariel Knoebel
A little slice of life on the road through the eyes of tour crew members.
Written by: Ariel Knoebel
Main image from October 21, 2019 | Bisbee Community Table in Bisbee, Arizona