Meet the Artist: Ty Williams
Meet the artist behind our collaborative collection of Ty Williams merchandise.
Written by: Ariel Knoebel
Jul 24, 2023
Ty Williams Is Always Looking For an Escape
Ty Williams is an irreverent visual artist based in Southern Maine, who uses the ocean as a main source of inspiration for his vibrant, playful work. In celebration of his collaboration of our collaborative merch collection, we thought we'd get to know Ty a little bit better. On one of the first sunny days of summer, we met up with him for an afternoon coffee at Smalls in Portland, Maine's West End. He arrived with his partner and fellow artist, Jasmine, their hair still wet at the ends from a quick swim in the ocean before joining us for the afternoon. As we sat in a sun-filled window booth of the bustling neighborhood cafe and market, we talked about Ty's artistic process and inspiration, his love of his home state of Maine, and a few of his favorite surf spots. Rather than telling you all about it, we thought we'd share our conversation in Ty's own words.
This conversation has been edited and condensed.
On Art
"I've been drawing and making stuff my whole life."
"I'm from Southern Maine, a little seacoast town. It's actually nine miles from the water, on a little horse farm. My parents are a little older, so growing up, drawing and making stuff was always kind of like the first option that my parents gave me to keep me busy at home. It was the early 90s, so other kids were always wanting super soakers and to play video games. I really wanted that, but my parents were pushing pencils and pens and crayons. A lot of my childhood was spent drawing, almost wishfully, what I couldn't have. I was drawing a lot of dinosaurs and dragons and stuff like that. Then, always, my fascination with the ocean fueled everything. I ended up basically growing up on the beach. When I wasn't on the beach and I was at home on the farm, I was drawing sharks, marine biology, all of those types of things.
"The whole entire time from age 14 to like 30, I was always working a restaurant job and then art. I started making t-shirts in college, bootleg style, and selling those. I did that for years – well after college – while working in restaurants all the time. I'm always inspired by the ocean and friends in the restaurant element. Maine being a wild restaurant frontier, I always think there can't be much more – I won't be able to do much more. Then from oyster farms to restaurants to friend's surf brands to clothing, there's always more work to do. I'd be lying if I said I wouldn't love to be doing large scale paintings and selling them in galleries – and I do a little bit of that – but this all kind of pulled me in this direction. There is something special about seeing your work used in a restaurant or other experiential setting."
On Surfing
Ty received his first surfboard in his early teens, a gift from a young man running the skateboard booth at a Maine agricultural fair. Ty floated past herding demonstrations and jam tastings towards a graphic displayed on the bottom of a board hanging on the wall. After talking skating for a few minutes, a casual question opened up a whole new world that the native New Englander had never considered: "do you surf?"
"I was like, 'can I do that?' He was from here, he was from Portland. He was like, 'I have an extra surfboard, I'll give it to you.'
"That was the catalyst. He gave us completely the wrong surfboard to learn on, a short board. But, I went out onto the water and I just caught the bug. It took me a while. I was a really really slow learner. I wish I had more of a community, I think I would have learned faster.
"There were no surf lessons, no instructors, in Maine. No one else knew what surfing was. I got into doing little surf contests, so I'd get to travel. I'd go down to Massachusetts, Rhode Island, eventually California. All the while I'm drawing all of the time. My mom was like, "you've got to keep a journal," and even though I was rebellious about almost everything else, with the art stuff I was good. The surfing led to travel because I wanted to surf other spots, and then totally in an organic way I was being exposed to different art, different people, different styles of clothes.
Through surfing, I was traveling. At that time, I was like, I want to be around other surfers. My community is really small, so I'd save up some money working at Bob's Clam Hut in Kittery so that I could go out and travel, be around other surfers and progress. By default, I was seeing more art, more design. I was seeing surfboards with cool logos, listening to new music.
Sometimes being transient is when you're the most creative. The best work I've ever made in my life has been in motion. If I'm on a surf trip, traveling, sitting at a restaurant with friends, waiting for a table or whatever, I get an idea and I have my notebook and I draw in it."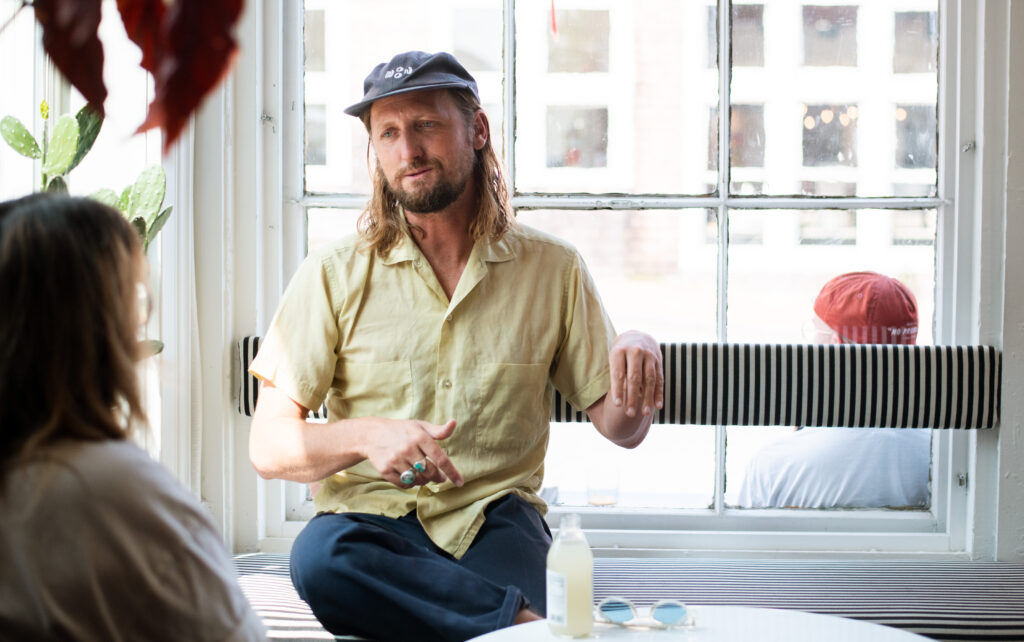 On Music
"Music is such a huge part of my whole creative process. When I started to travel, people would exchange cassette mix tapes and stuff. I'd listen to a cassette tape, making mix tapes with my walkman. That would then affect what I'm doing in my journals, which then sometimes would end up being a t-shirt or sold in a gallery or to a surf brand, ultimately to pay for me to go on another surf trip.
I'd come back to Maine, my hibernation zone in the winter, and I would have just been in Jamaica or in the Caribbean where I was listening to reggae, and it affected my work. People see my stuff and be like, it's always bright and tropical, but I'm from Maine. "
On Maine
"I've spent a large swath of my life elsewhere, traveling, but I always come back. As a kid, I was always drawing palm trees. It was a wishful thing. Yeah, I've snowbirded forever, and I still – I was talking about it today, where are we going to go for the winter?
But Maine, for me, is vital. All of my inspiration, for the most part, is incubated here.
Maine, to me, is a very resilient place. Mainers are wildly resilient. I don't think of myself as being overly resilient – as soon as it's winter time and there's no swell, then I don't want to be here. If it's -11 degrees and there's waves, then I'm fine. If the weather is really shitty and there's no waves, I get soft. All of my friends that are from here I really respect and am inspired by, because of what they are able to do in an environment that ultimately is pretty adverse.
Inherently, Maine is a place that births creativity because the weather is pretty tough, but a lot of people want to be here. There's a major art community, whether it be people from here or people who have second homes here. When you're around it, it feels so electric. I feel like I'm constantly finding out about people doing stuff, and it's not an environment necessarily like Los Angeles or New York, where you're like of course I know him, and he makes paintings like mine. Here, you have to work a little harder to find it, and when you do it feels so special. You have to put the effort in, and that really means something. It means something to me if someone drives two hours to visit, or three. I think that's ultimately – Mainers are tough. We're a little harsh.
I tried living in California for three years, and it was…fine. I found myself always missing home. I feel like I get more work by not being there, if that makes sense."
Because you're not from there.

"I think that's why. I think if we lived in California, I probably wouldn't be as prolific. I know that. Because our weather patterns here, I believe in this – winters are the time to make stuff. I am so insanely busy in the winter making things, because I'm doing that and I'm thinking about where I'm going to travel. When I lived in Topanga [California], for the three years I lived out there, I didn't do much. I surfed every day, because the waves are fine every day – by New England standards, awesome. Every day, I was just eating burritos and people were like, "are you making stuff?" I was like, "yeah, a little bit, when I go visit my parents in Maine." Even today, with the weather switching, I was like "holy shit, this is magical, we have to swim."
For Ty, it always comes back to the ocean.
UP NEXT
A little slice of life on the road through the eyes of tour crew members.
Written by: Ariel Knoebel
Main image from October 21, 2019 | Bisbee Community Table in Bisbee, Arizona
A little slice of life on the road through the eyes of tour crew members.
Written by: Ariel Knoebel