FIELD NOTES: Like Satellites in the Night Sky
A little slice of life on the road through the eyes of tour crew members.
Written by: Ariel Knoebel
Main photo by Kimberly Motos
Nov 08, 2022
Moments before dessert was served on Tuna Harbor Dock in San Diego last week, all heads turned to the sky. The Falcon 9 rocket launched into the atmosphere on a mission to carry 53 satellites into orbit, leaving a vacillating cloud trail across the fading sunset. 
While everyone else was looking up, a few of our servers quietly finished the ballet that caps off any field dinner: the final clear. If you've been at the table, you may have noticed it. Or you may have been too deep in conversation with your dining companions or busy taking in the view on your way to the restroom and missed the choreography. That's kind of the point. It's designed to look effortless, like a dancer throwing their leg into the air as if weightless. Like a many ton rocket launching into the far atmosphere, leaving only some pretty vapor behind. 
After all three savory courses are served, when the guests at the table take a pause to savor the meal, the scenery, and the company, our service staff execute a complicated, synchronized, perfectly timed series of steps to clear and reset the table for dessert. Meanwhile, another team rushes to carefully wash every plate brought to dinner and set it on our plate display, ready and waiting by the time dessert drops for anyone that may need to leave. 
Tour Crew works hard, don't get me wrong. I'm writing this as my team is washing several loads of kitchen towels after a six hour drive and an hour and a half logistics meeting – and that's on our day off. But we simply could not do it without our day staff. No – that's not a good enough term for all they do. We call them "Satellites", because like those launched by the Falcon 9 rocket, they orbit around Tour Crew (in their own vehicles) as we travel around the country. I've always loved the term. It's much more poetic, much more fitting to the strange, unexpected beauty of our day to day life. 
Some Satellites sign up for one day, some for several weeks, and some – when we are especially lucky – stay with us for entire legs of the tour. They camp at our host farms and cobble together a grand adventure of their individual making, punctuated by farm dinners. They show up early in the morning; shim tables until perfectly level (and double check that each one is just so); carry bins and wheel carts across rocks and through sand and over rolling hillsides sprinkled with dry cow pies (that they help remove later), and work long after dark to help clean it all up on the other side.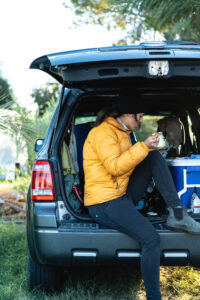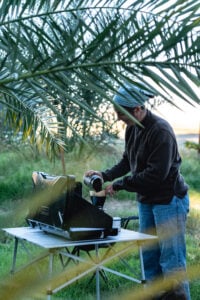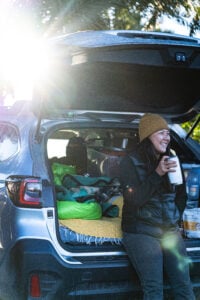 Photos by Justin Konicek
Midday, they go on break and come back miraculously refreshed and dressed in the season's best farm fashions. As if they haven't been at work since dawn, they greet you, seat you, serve you, and sweetly tell their best stories from the road. They take notes on the wine and the farms that grew the food and how it was prepared so that they can answer questions at the table. They carefully carry our lovely (but heavy) platters laden with abundance across uneven terrain to present you with a hot, delicious dish to share with new friends. The beauty is, Satellites learn something new every day, but sometimes those lessons are hard won—the road can be an unforgiving teacher. Often, the best part of their day is something they learn about you at the table. Every day, they make the almost impossible seem effortless. Like satellites in the night sky, they burn bright and beautiful, making it seem like magic that they drift across the sky so peacefully. But, behind the scenes, there is a complicated and delicate dance, and a lot of hard work necessary to keep things aloft. 
"
The beauty is, Satellites learn something new every day, but sometimes those lessons are hard won—the road can be an unforgiving teacher. Often, the best part of their day is something they learn about you at the table."
As our tour is wrapping up, we have begun to say goodbye to many of our satellites. They spin out of our orbit and onto their next steps – some back home, where they will land back on solid ground; some onto new adventures, setting themselves adrift across new horizons; most don't really know yet, inertia is as true for people as it is objects. With each goodbye, we can't help but reflect on the fleeting and painful beauty of bonds built on the road. Whether through our morning intro circle questions or late night heart-to-hearts over staff meal, we've shared a lot with each other in these past few months. 
If you've been to dinner this season, you've likely heard me talk about the ephemeral nature of farm dinner, and the bonds that endure long after dessert is served. Know that those bonds aren't just forged across the table, but in beautifully tangled webs all around it. They burn brighter than the stars on a clear night – hopefully, some of them endure just as long.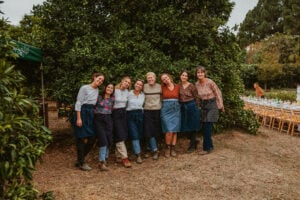 Photo by Katie Katz
UP NEXT
Recipe by Brian Redzikowski of Kettner Exchange served at Temecula Olive Oil Co. on October 29th, 2022
A little slice of life on the road through the eyes of tour crew members.
Written by: Ariel Knoebel