FIELD NOTES | August 2022
A little slice of life on the road through the eyes of tour crew members. Written by: Ariel Knoebel, Emmy Welsh and Leah King
Photos by Emmy Welsh and Troy Whitford
Aug 17, 2022
August 2022
How the West Won Our Hearts
Half of our tour crew have been road tripping out West for the last few weeks; from the red dirt of Southern Utah, through the sculptural desert around Moab (with a stop at the real-life set of Thelma and Louise), and eventually up into the Rocky Mountains, their distant peaks still dusted with snow. We set the table across Colorado, from the dry grasslands of ranch country into lush meadows studded with wildflowers.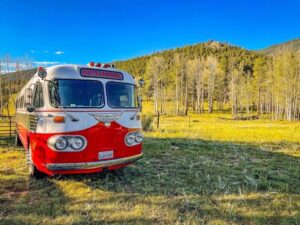 As we rolled into Denver, the crew picked up our newest member, Troy, and welcomed him to the team in typical OITF style—a juxtaposition of hot working days and upscale fine dining. 
We started with a hot, stormy day in Watkins, Colorado. This was the first in a series of events with the Colorado State Land Board, which owns and manages 2.8 million acres of land across the state. The Land Board leases farm and ranchland to local farmers, often with generations-old ties to Colorado, and uses revenue to fund public schools' construction projects and improvements through a grant program. This partnership helps provide ranchers with fairly-priced leases, partnership in land stewardship, and support of rural communities through school improvement.  
Nick Trainor, who leases 24,000 acres from the State Land Board, hosted the crew at Lowry Ranch for this event, and offered up one of the most inspiring farmer talks from the box we've heard this season. He is an advocate of adaptive grazing: continuously rotating cattle to different plots of land to allow for soil and grassland regeneration and diversity. At Lowry Ranch, Nick works in partnership with the Nature Conservancy Grasslands Program to create a model for adaptive, drought-resistant, and resilient sustainable ranching techniques.  
As dramatic dark clouds gathered and eventually released a summer thunderstorm, rain drumming on the tent over reception, Nick reminded us that, as humans, we just really need to do less, to tread lightly, and be better stewards of the environment around us.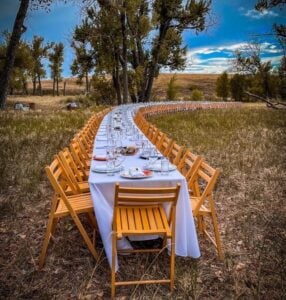 The storm receded just in time for dinner, giving way to marshmallow clouds across the pinkening sky. Our guests meandered down a dry riverbed underneath a double rainbow, past whimsically bare trees, and took a left at a porcupine skull right out of a Georgia O'Keefe painting, to the table site for a dinner celebrating the Lowry Ranch with Chef Byron Gomez. 
After that long day's work, we needed a break – and a good meal – before setting the table again. Last year, OITF had our first dinner with chefs Kelly Whitaker and Taylor Stark of The Wolf's Tailor. They left a lasting impression on our Kitchen Manager, Leah King. Deeply impacted by their commitment to integrity and ingenuity, she was inspired enough to take a trip to noma's MAD Academy in Copenhagen during the off season. This made a visit to Wolf's for a tour crew family meal an integral part of our Denver experience. Our team, while often challenging to impress, felt like they were shown the best bits of Colorado through the eyes of Chef Taylor and the culinary art that he inspires and creates.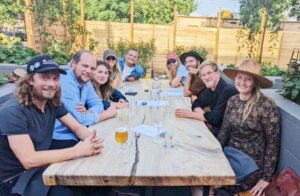 Leah even joined their team at the restaurant before their dinner with us at McArthur Gulch—helping to create a re-imagined version of some of the dishes from their tasting menu to share with guests at the field table.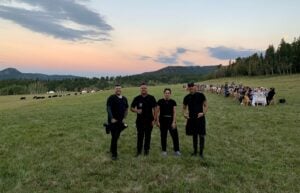 It's safe to say, the West won our hearts with its stunning vistas, artful cuisine, and a strong community of people deeply invested in the health of the environment of the Rockies. 
UP NEXT
A little slice of life on the road through the eyes of tour crew members.
Written by: Ariel Knoebel
Recipe from Chasing Smoke: Cooking Over Fire Around the Levant by Itamar Srulovich and Sarit Packer (Harper Collins, 2021)
Photography by: Liz Birnbaum | Curated Feast