Recipe from the field: Honey & Co.'s Spiced Courgettes
Recipe from Chasing Smoke: Cooking Over Fire Around the Levant by Itamar Srulovich and Sarit Packer (Harper Collins, 2021)
Photography by: Liz Birnbaum | Curated Feast
Jul 28, 2022
Spiced courgettes with goats' yogurt & grapes
(A light lunch for 2–3 or a great starter for 6)
Ingredients
12 baby green courgettes
2 garlic cloves, peeled and crushed
3 tbsp olive oil
flaky sea salt
freshly ground black pepper
juice of 1 lemon 
Spices
1 tsp ground cumin
1 tsp ground coriander
a pinch of freshly ground black pepper
a pinch of chilli flakes or cayenne pepper
½ tsp ground ginger
½ tsp ground cinnamon
½ tsp flaky sea salt 
To serve
150g / 5 ¼  oz black seedless grapes, halved
40g / 1 ½  oz pine nuts, lightly roasted
1 small bunch of mint, leaves picked
100g / 3 ½ oz goats' yogurt 

Instructions
Halve the courgettes lengthways and use a small knife to score the flesh with a criss-cross pattern (make sure not to go through to the skin). Set on a tray. Mix the crushed garlic with the olive oil and brush some of this mixture generously over the cut surfaces, then season with salt and black pepper. Place the courgettes cut-side down directly on the grill rack to colour for 3–4 minutes, then flip them over so that they are cut-side up. Mix all the spices into the remaining garlic oil to form a thick paste and brush it over the cut surfaces of each courgette, making sure it gets into the scored grooves. Leave to cook for another 3–4 minutes, then remove from the grill onto a serving plate. 
Spoon over any remaining garlic-oil-paste and drizzle with the lemon juice. Top with the grapes, pine nuts, mint leaves and small dollops of the yogurt, and serve. 
To cook without a BBQ
Use a lightly oiled, preheated griddle pan on your stove top and cook just as you would on the fire.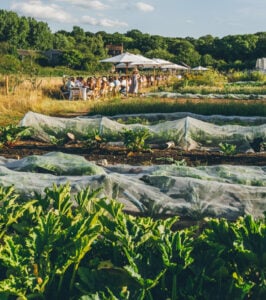 As served at the table on our July 16th, 2022 event at Sitopia Farm in London, UK.
UP NEXT
A little slice of life on the road through the eyes of tour crew members. Written by: Ariel Knoebel, Emmy Welsh and Leah King
Photos by Emmy Welsh and Troy Whitford
A little slice of life on the road through the eyes of tour crew members. Written by: Ariel Knoebel | Host and Guest Relations Crew Member
Photography by: Zoe Schaeffer | @dirtjoy