FIELD NOTES | July 2022
A little slice of life on the road through the eyes of tour crew members. Written by: Ariel Knoebel | Host and Guest Relations Crew Member
Photography by: Zoe Schaeffer | @dirtjoy
Jul 27, 2022
July 2022
After two months in California, half of our crew packed up our trucks and trailers and headed East — all the way across the country. Along the way we took a sunset dip in Lake Tahoe, cracked shell of the Bonneville Salt Flats, and stocked up on candy at the World's Largest Truck Stop in Iowa. As we drove, we watched the dusty golden tones of the western desert states fade away to be replaced by vibrant greens and big blue skies in the midwest, those shades eventually darkening into the deep greens and grays of the craggy coasts of New England, but we had one especially memorable stop along the way. 
We kicked off the Northeast leg of our tour at Kneehigh Farm in Pottstown, Pennsylvania. We knew this event was going to be a bit extra special because it was highlighting our linen partner, Kitchen Garden Textiles. Our long table has gotten a bit of a glow up this season. We've worked with Heidi Barr and Haley Galindo to dress our events with their handmade linen tablecloths and napkins. Kneehigh Farm, run by Emma DeLong, is part of Kitchen Garden Textiles' sister organization, PA flax project, which aims to revitalize the historic flax for linen industry in the region.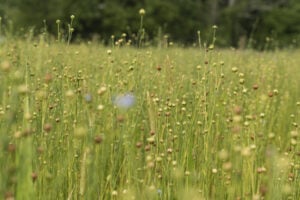 Chef Ari Miller of Musi helmed the field kitchen. He roasted pork in Kitchen Garden Textiles linens, in addition to showcasing Kneehigh Farm's produce in every course. Richard and Mengistu of Two Locals Brewing were at the table after pouring their beer at reception, beer that Ari regularly cooks with when making his signature philly cheesesteak sauce. Miller's approach to "relationship based cooking" was clearly articulated in every course, and his closing remarks to the table, in which he spoke strongly about the closely-woven community by which we were so clearly surrounded. In fact, Ari was the initial connection between Outstanding in the Field and Kitchen Garden textiles, as well as their first restaurant customer.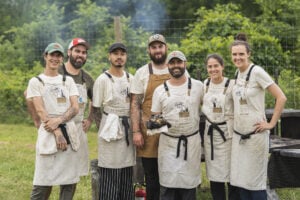 Angela Whates-Kahl from Fibrevolution in Oregon flew in for the dinner, and demonstrated historical flax production right in Kneehigh's ⅛ acre flax field, highlighting the strong community of flax growers connected cross-country by their passion for sustainable living and natural fiber. The whole table was scattered with members of Heidi's community and supporters of the PA flax project; it was honestly difficult to discern who at the table were old friends, and who had just met that evening. Enriching the strong sense of place throughout dinner, guests sipped on wines from Wayvine, an all estate grown winery passionately run by two brothers in the heart of Pennsylvania.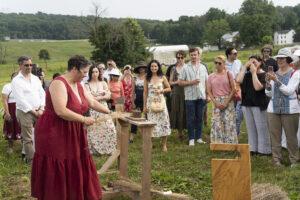 One of my favorite parts of event days is getting to meet the farmers, chefs, and producers we work with. Often, they are especially incredible people. Occasionally, their passion for their place and community reminds me, in the best way, that while we may be hosting the party that night, we are simply guests in this community that they have built. At this dinner, on this sweet postage stamp of a farm, the linens were certainly gorgeous, but the strong fibers of the local community were the real highlight of the evening. Weary travelers that we were, it felt like a strange kind of homecoming to set our first table in the Northeast amongst friends. The rich relationships represented around the table at Kneehigh were woven together far stronger than any we could ever have spun ourselves. We simply got to show up and set the table for them all.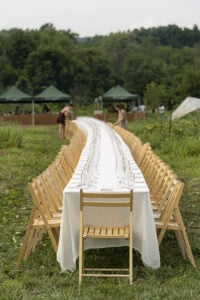 I'd like to share with you an excerpt of Heidi Barr's speech from opening remarks, as a reminder of the importance of community around our collective tables: 
As a textile artist and an environmentalist, I struggled with the fact that the textiles industry as it is today is a prime example of an industry that exploits both human labor and the natural world on a global scale. 

But it doesn't have to be. 

And we know how to change it.

The textiles industry can look like this. It can be the renewal of a 37 thousand year old collaboration between the flax plant, human labor and creativity, cultivated and celebrated on diversified farms.

This is the dream we are making come true at this table.

We have a ways to go, a few large gaps to fill before we achieve this, but we have a road map and we have the collective will, making it only a matter of time.

In 2014, when asked to describe my business using metaphor – what I wrote could have been describing this evening.

It goes like this.

Kitchen Garden Textiles is a river that sounds like bird song and tastes like pea shoots being eaten in the field. It feels like the sun on my bare skin and smells like the warm earth.

Today I might add – that it looks like what you are seeing.

I thank every single one of you for being here and becoming part of keeping this momentum going. You are crucial to our collective success. Thank you.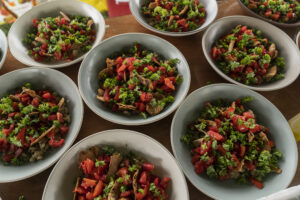 UP NEXT
Recipe from Chasing Smoke: Cooking Over Fire Around the Levant by Itamar Srulovich and Sarit Packer (Harper Collins, 2021)
Photography by: Liz Birnbaum | Curated Feast