FIELD NOTES:
How do you find your sites?
A little slice of life on the road through the eyes of tour crew members.
Written by: Ariel Knoebel
Apr 11, 2023
Sometimes, it's not that eas

y

Towards the end of our time on the road last fall, we were lurking at the back gate of a ten-foot fence lined with bougainvillea, hoping no one would call the neighborhood watch, trying to figure out how to get into Wattles Farm. Could this even be the right place? Could there actually be a secret garden big enough to host an event for 150 people behind this wrought iron fence in a residential neighborhood at the mouth of Runyon Canyon? Toby, our event host, rounded the bend to find us. Her bird-like frame was draped in black, and she had a shock of white-gray hair framing oversized sunglasses that whispered old Hollywood. She took a few seconds to scan each of our sunburnt faces as she let us in through the gate, and declared, "well, I don't recognize any of you. No wonder you don't know what you're doing here!"

Little did we know as a first-time Tour Crew, but Wattles Farm Community Garden is one of those sites that feels a little bit like home to OITF veterans (before you go looking, it is not on the schedule for this year, sorry!) Hosts like Toby are as much a part of our team as the Crew itself, welcoming us into their homes and onto their land for the day or the weekend. Jim originally found Wattles when wandering around the neighborhood, staying at a friend's place. Much like us, he peeked through the fence and wondered if there really could be a garden oasis tucked into the steep, crowded streets of Hollywood. So, he jumped the fence to find out for himself.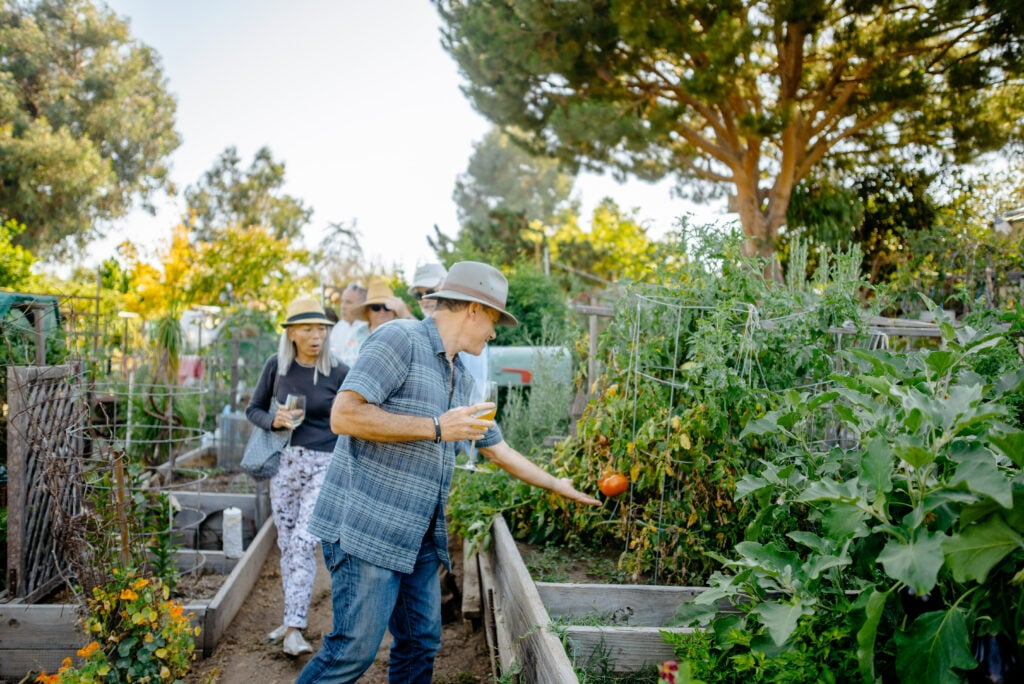 The big reveal
When I welcome guests at each event, I get to watch them round the corner or come up the hill or down the stairs – whatever it may be – to catch their first view of the magical place where we've set table that day. Sometimes, they've been walking for ten minutes, winding through fields or orchards, drinking in the pastoral beauty of a place. Sometimes, they have just turned off the street, confused about where the farm they were promised may actually be. After spending the morning running around thinking about trailer placement and leveling tables, it often feels like I finally get to see the site for the first time through their eyes. So often, it feels like walking into a different world. Invariably, people break through that sense of wonder to ask, "how did you find this place?" Or, entrepreneurially, they think about their favorite farm, their friend's land or even their own property and inquire, "how do you choose your sites?"
As we always say, every site is unique – and their origin stories are equally so. The recipe for choosing our sites is one part logistics, a healthy seasoning of good relationships and a sprinkle of serendipity. Sometimes, that means jumping a fence and taking a chance on what's on the other side.
Mapping out the tour
To balance out the magic of serendipity, we are always wrestling with the reality that we have one team and two trailers that have to drive everywhere we go. So, we start each year with a spreadsheet. We build our road trip schedule, making a point to get out of Southern California before the Santa Ana winds sweep up the hillsides. We get to the Midwest and Northeast just at that manic moment the peak late-summer produce makes the residents of those regions forget about the biting winds of March. We wait to hit the South until the sun releases some of its summer intensity, leaving us lightly baked but not totally burned by the end of the afternoon. We map long drives and try to predict where the Tour Crew will sleep (we try to give them enough time to do so). Then, we start filling in our farms.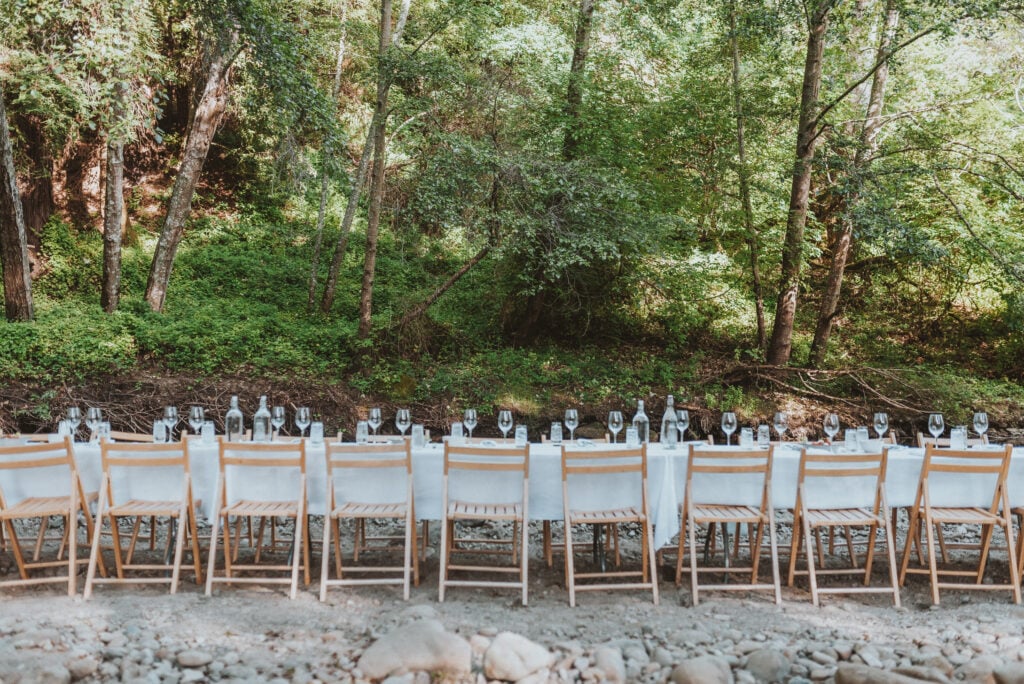 The classics
There are some sites that we know we will go to each and every year: The bluffs above the Pacific at Markegard Family Grass Fed, where Doniga rides her horse through reception and her son Larry helps us shuttle tables on the ATV. Along the shore of the river at Everett Family Farm, where we try not to run over Rich's sprinklers with the bus (but we've had to replace them more than once). The craggy shores of Lopez Island, the expansive mountain views of Lowry Ranch, the charming Midwestern farmers who make us feel at home. In Ohio, the Thaxtons cook breakfast for the crew and literally open their home to let us do laundry. We simply can't pass that up, especially halfway through the summer (and the cross-country trek), when spirits can begin to sag and our bodies are aching but there is no end in sight. Then, there's the Hickories, where the livestock guardian dogs serve as our alarm clocks and the farm crew stays late to share a toast to a job well done after dinner. Right before we make a big right turn on our route to head back west, there's the otherworldly beauty of the golden hillside of Burnt Hill. We always stay for a few days, a welcome moment of stillness for the crew after the whirlwind of the Northeast. There's Boggy Creek, where Carol and Larry talked Jim into doing just one more cross country tour in 2005; and the autumn olive harvest at Temecula Olive Oil Company, where Thom builds us a bonfire to gather around after dinner is cleaned up from the darkened groves.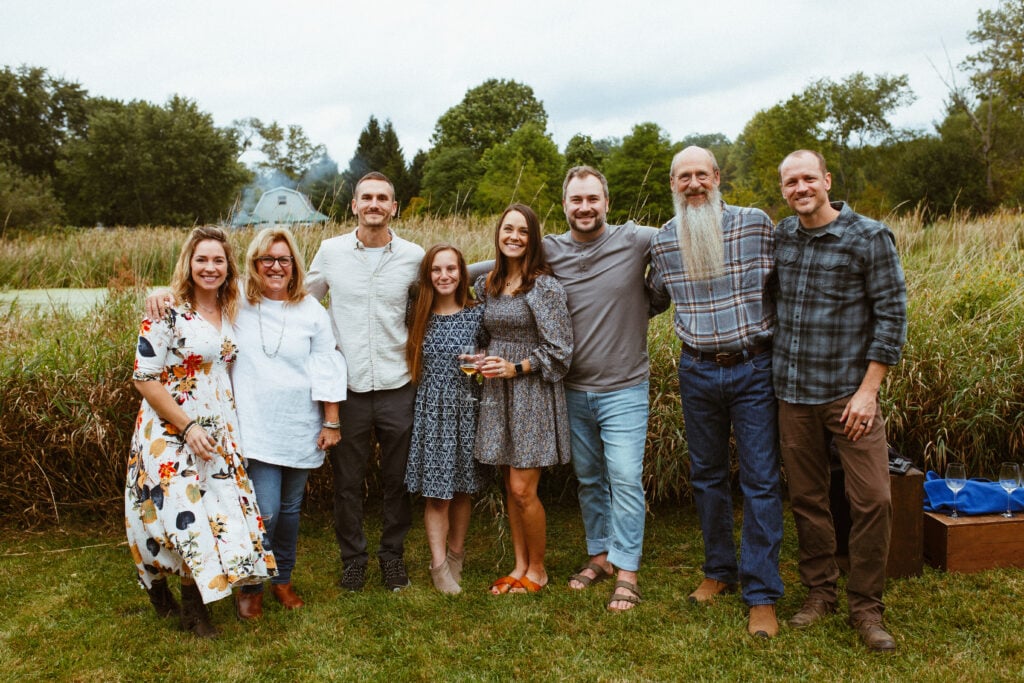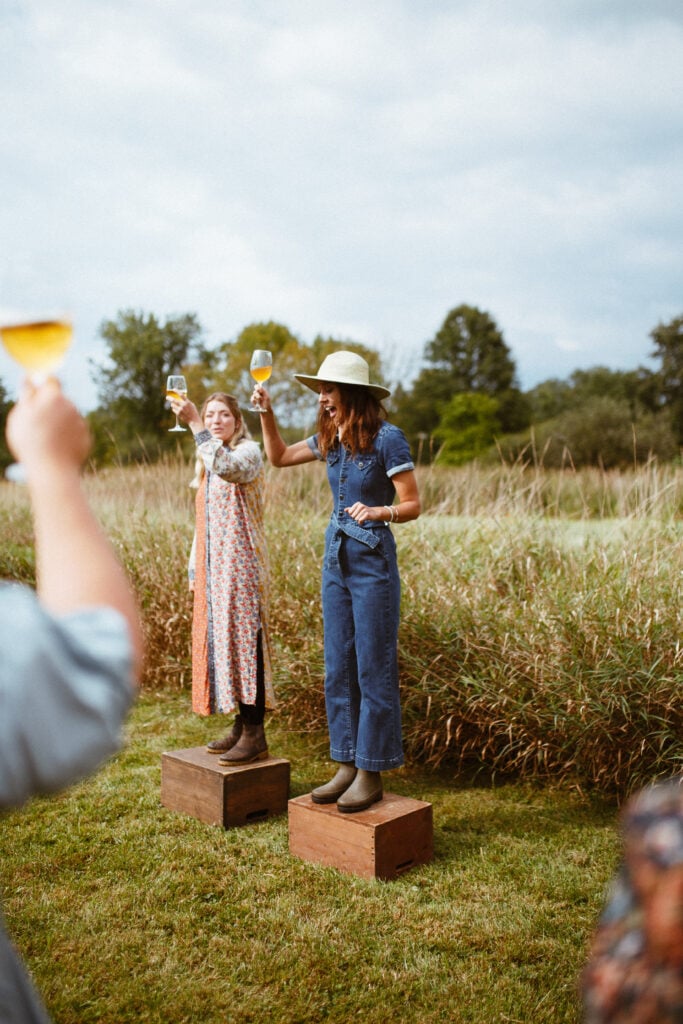 Discovering new locations
In addition to our old favorites, we like to add in something new each year in order to keep learning. Sometimes, this comes from you – a farmer at the table who insists we need to join them next time, down the road or across the state. Or, a guest sends an email because they just really love their local CSA farm and want to see them celebrated. When we hear these kinds of things, usually someone makes a visit to see the property in person.
Emily, our Events Director, was busy putting together the schedule this spring when she took a road trip through the Driftless region of Wisconsin. She just moved to the Midwest, and was excited to get to know its local lands a bit better as the bitter winter began to thaw. Driving through Viroqua, she discovered one of the densest concentrations of organic farms in the country – and the region's local hype man, Luke Zahm. Luke also happens to be the executive chef of the Driftless Cafe, and all it took was one conversation for Emily to know we needed to work with him. "Chef [Luke] already feels like a homie. I want to hang out with him and his wife and just eat good food with them," says Emily, when retelling her tale of discovery. Luke connected her to Andy Hatch at Uplands Cheese, a legend in the already legendary Wisconsin cheese world, and the planning started from there. It's with that type of foundation that we can confidently invite you for dinner on a new farm with a new chef we've never worked with, because we know that they already have a story to tell. All we need to do is set the table to celebrate it.
We often hear from guests requesting events in places where an established personal connection doesn't yet exist. Last year, when we were planning the 2022 tour, we knew we needed to add a dinner in the Carmel Valley, a nook of California wine country outside of Monterey where we always have more people that want to come to dinner than we even have seats at the table. So, we reached out to our California winemaking friends. A well placed recommendation led us to Tira Nanza, where Greg and Sydney welcomed us – perfect strangers at that point – with open arms to sleep outside their tasting room and take over a ridge of their ranch. Just before dessert, as the sun streaked the sky pink over the undulating hills, we sprinkled blush-colored rose petals along the table, a dramatic touch from our guest chef, Ben Spungin of Cella. The petals occasionally drifted into glasses of wine poured straight from the barrel, still too young to be bottled but specially poured for their first dinner with new friends. That's the kind of magic we are always looking for, but we can't just create ourselves.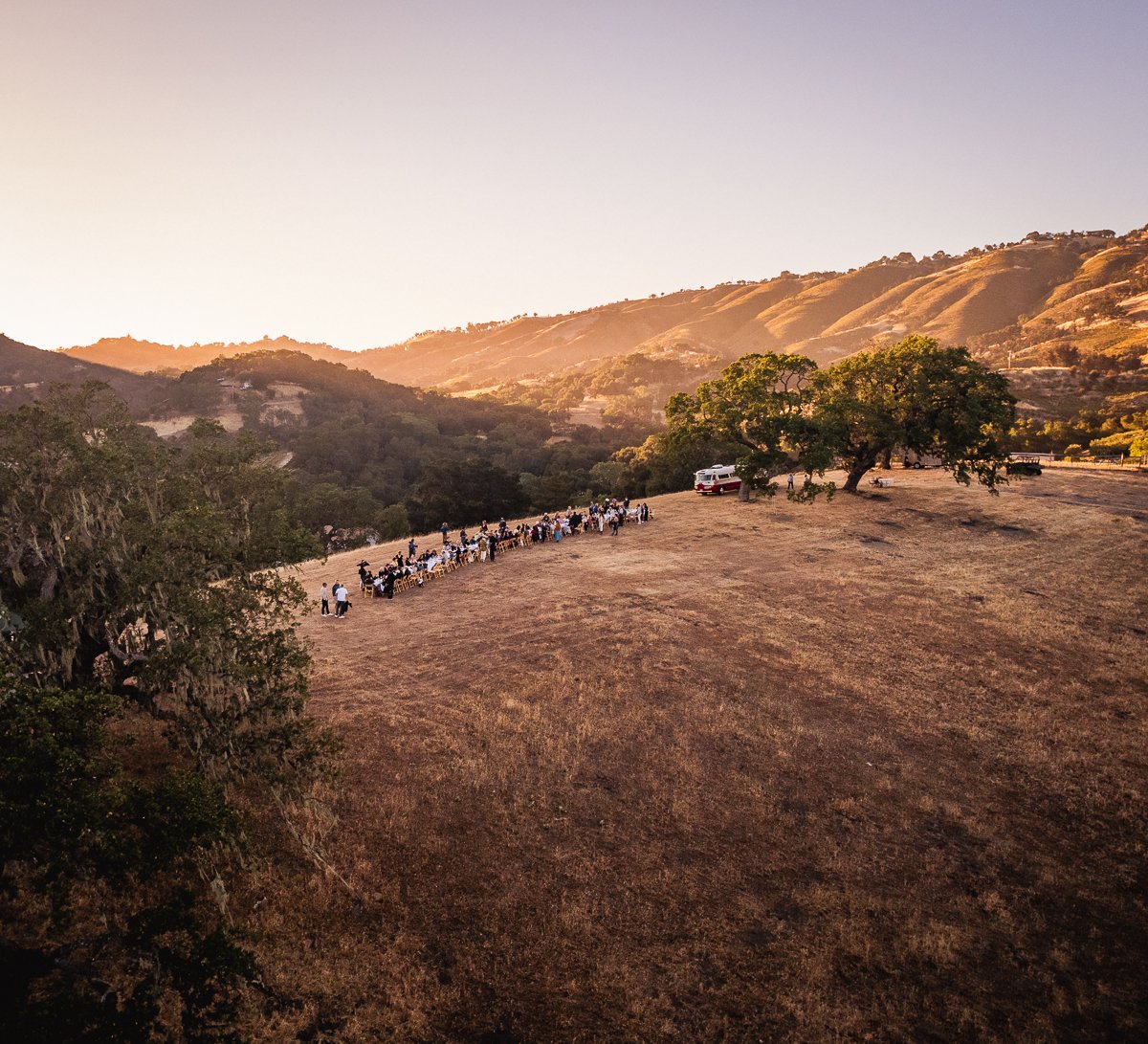 I have written in a note somewhere from tour a quotation from Jim;
"Everywhere we go could be considered on the way

."

Whether because a farmer gets a taste of our experiences and wants to connect or we pass by a magical corner of the world and meet someone kind enough to welcome us in, every stop we make is an opportunity to discover something more. If we're lucky, we get to share it with you the following season. Every summer is a chance to visit old friends, make new ones, and set the table for countless celebrations of place and the people that make each one special.

I can't wait to see what serendipity this season will bring.

—— Ariel
UP NEXT
A little slice of life on the road through the eyes of tour crew members.
Written by: Ariel Knoebel
A little slice of life on the road through the eyes of tour crew members.
Written by: Ariel Knoebel
Photos by: Austin Daly